Affirmations are powerful tools to level up your mindset and reinforce the limiting beliefs that you have about money.
After showing you my best 10 money affirmations for wealth and prosperity, I'll show you the best guideline about what makes an affirmation powerful and how to create effective affirmations. My money affirmations here are based on that guideline.
10 Best Money Affirmations for Wealth and Prosperity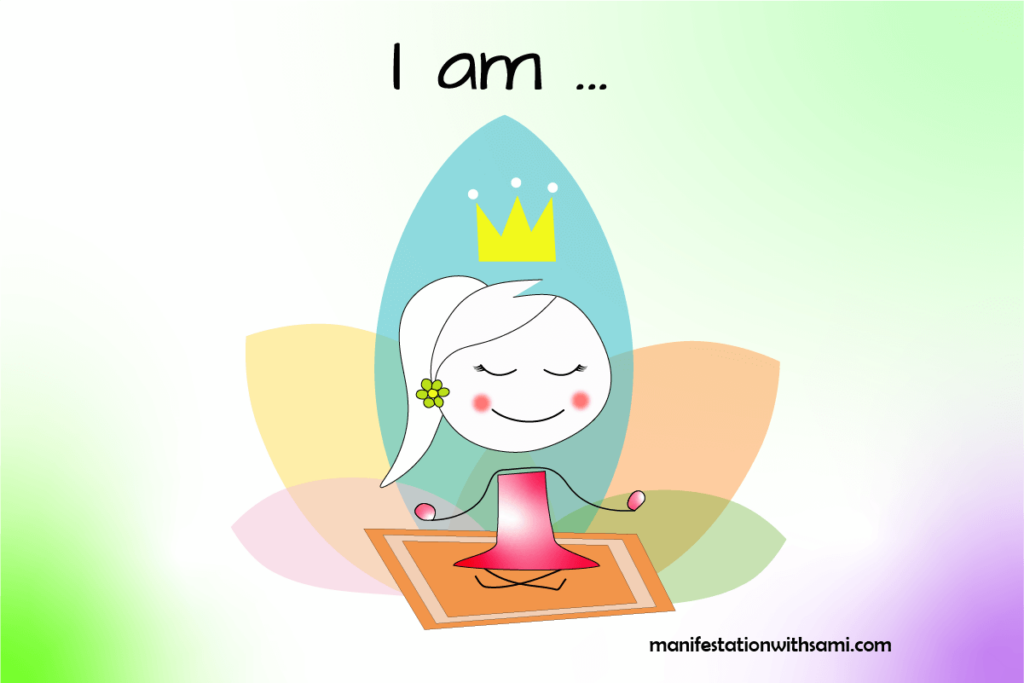 1. I am worthy of being prosperous.
This affirmation boosts your self-esteem and can help you to tune into a prosperous life.
2. I am a money magnet.
This is one of the best money affirmations for wealth and prosperity. If you want to know more about how to become a money magnet, read my previous article.
3. Money comes to me with ease.
Use this affirmation to attract money with ease. It helps you to rewrite all those beliefs about money like money comes only from hard work, or earning money is pretty difficult for me.
4. I love money & money loves me.
My favorite wealth affirmation is to say: I love money, and money loves me. Because I feel so love about my money, and when I send love feeling to the universe, immense blessings come to me.
5. I feel good about money.
If you have already learned to feel guilty if you have money (while others around you don't have), this affirmation can tremendously help you to change your feeling about money. Feeling good about money puts you in the receiver mode.
6. I am blessed; I am rich.
Money is a blessing, and being rich is God's favor. If you do not think like this, you are wrong! Keep saying: I am blessed, and I am rich.
7. I am grateful for the money that I have now and the abundance that comes my way.
If you want to manifest money fast, be grateful for all the money you have now and keep being thankful for all the money that is on the way to you.
The more you are grateful, the faster you manifest wealth.
8. I allow myself to be rich.
Do you fear being rich? Do you believe rich people are bad people? If so, you don't allow yourself to be rich. Let go of these beliefs by saying: I allow myself to be rich.
9. I am happy to receive money abundantly.
If you want to manifest money, always be a happier receiver and use this affirmation to reach that point: I am happy to receive money abundantly.
10. Money comes to me in different ways magically.
Money comes to you in many different ways, not only via your salary! Just look back to your life and see how many times you have received the money in different ways. Then keep on those memories to remind yourself that money is coming to you in different ways.
Watch my video to learn more about these 10 powerful money affirmations for wealth and prosperity.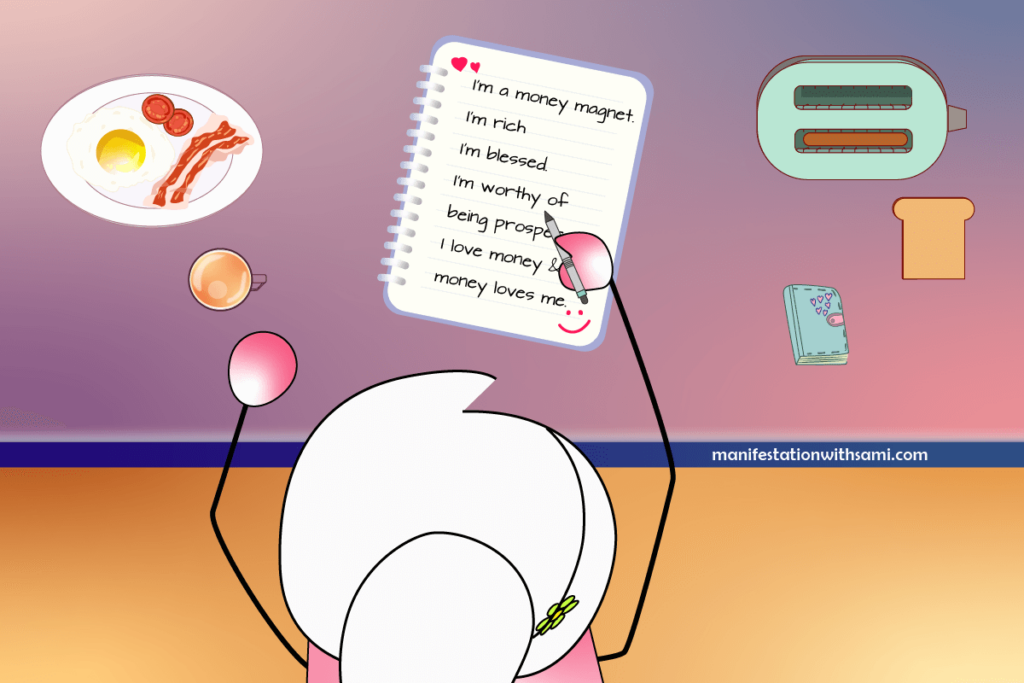 How to create the best affirmations?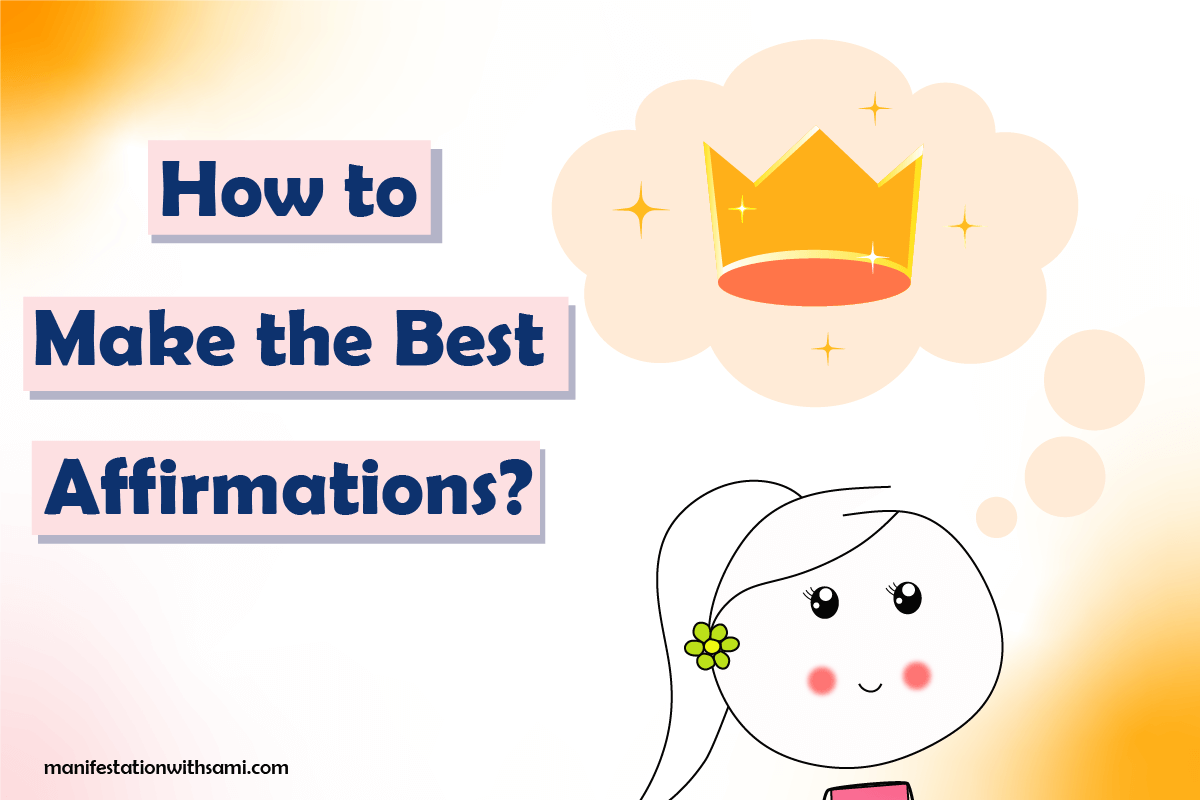 Affirmations, when performed correctly, are powerful tools to help you to manifest wealth and prosperity, your goals or whatever you dream of. My list above about money affirmations for wealth and prosperity is a very helpful way to reprogram your subconscious mind and tune it to love money and manifest more money. For each, I followed this guideline too and I briefly explain why they are powerful.
So, here is my best guideline on how to do affirmations:
Use a present-tense sentence. If your affirmative sentences have future tense verbs, then you will never manifest your desires in the present moment because you are affirming that in any vague future, you want to manifest your dream, and it should not happen now. Affirmations formulated in the future keep you away from achieving your dream, because it always stays in the future and will never happen in your present moment. Affirmations in the present moment reflect that it's already your reality. Also, do not put a time frame to your affirmations. Do not limit yourself. The real power is in the present moment.

Use a positive sentence. Say your affirmation always with positive words. For example, instead of saying: I overcome my problem, say, I find a solution. Never use negative words such as limit, fear, cannot, or negative adjectives. Remember that whatever you are affirming will be rooted in your subconscious mind.

Repeat affirmations at least 3 times without a pause. Repeating affirmative sentences helps to rewrite your subconscious beliefs. So the more you repeat it, the more it will sink into your subconscious mind. Say your affirmations at least 3 times without a pause. If you pause between your sentences, then your subconscious mind will find a moment to challenge them and subsequently refuse to accept them.

Start your affirmative sentence with I or My. The most effective and powerful affirmations start with I or My. Because you make a statement about yourself or your world and it works as an order to your subconscious mind.

Send an aligned feeling, not a lack of feeling, when you affirm. Never begin your affirmation with "I want" or "I need" because by using that, you affirm that you do not have your desire, and you manifest more lack. For example, "I am a money magnet" is a powerful money affirmation, because it is not based on a lack of mentality and comes from abundance.

Repeat them loud to make them even more powerful. If you want to make your affirmations powerful, say them loud. It strongly will affect your subconscious mind.

Let them help you raise your vibration. A positive affirmation raises your frequency, which allows you to attract more abundance.

Repeat them during the day to help you to stay focused on your goal. Affirmations move your consciousness and attention in the direction you want to manifest. They help you to put your focus on your goals throughout your day. You'll consciously focus on what you want to manifest by repeating your affirmations on different occasions of the day.

Attach positive feelings to your affirmations positive and visualize them. Every affirmation is associated with a specific image and feeling. By repeating positive affirmations along with visualization and positive feelings, you will attract your desire faster.

Let them inspire you. Once they inspire you, take the required actions. Affirmations are not only a reminder but also a source of inspiration for you to take the required actions to manifest your desires abundantly.
Now you learned how to make the best affirmations. Do you know at which time you should say them?
What is the best time to say affirmations?
Your brain produces five different brain waves. All of these brain waves are always available, but depending on the circumstances, a particular wave is dominant.
When your eyes are closed and your muscles are relaxed, but you are still aware of your environment, the alpha waves of your mind are dominant. So, to enter the alpha state, you must relax completely when you are awake.
Affirmations are one of the best tools to level up your mindset and reprogram your limiting beliefs.
Affirmations are much more powerful and effective if you say them once you are in the alpha state because the strongest connection with the unconscious mind occurs in the mental alpha state.
Do you want to know exactly how to enter the alpha state of mind, check my previous article.
If you love this list of money affirmations for wealth and prosperity, then link it, forward it, or share it on social media. I would be very happy about that. Thank you very much!
---
Ready to turn your dreams into reality?
Download my free guide on manifesting your dreams, which includes 11 steps and 11 exercises.
---
You might be interested to: